Where to Create your Book
Once you've logged in you'll see 3 options click the 'create a project' box.

Create your Image Library
Build your image library by scanning or uploading images of the book pages onto your computer. Select which pages you want in your book and begin to build your draft.
Create Your Draft Book
Click on 'create my draft book' and select the 12 pages you want to use for your book. From here you can crop, rotate and order the book as you wish.
Add Your Book to Your Library
From here you can now add the book to your library where you can choose to share it and order a printed copy!

Creating your Co-author Book
On the 'Create' Page select the 'Co-author programs' option as highlighted below.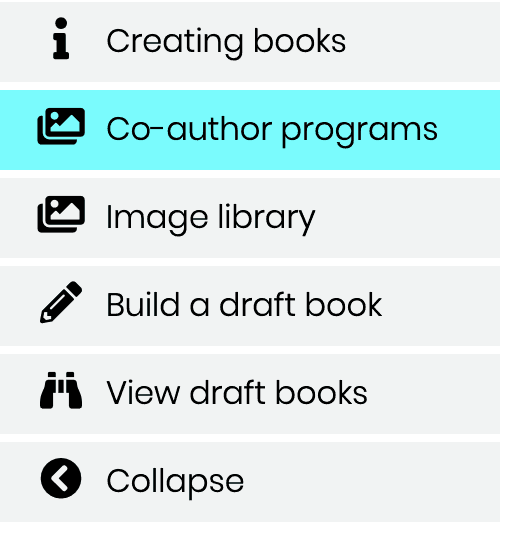 On this page, you should be able to see your co-author programs, select the one you have been working on.

Here you will see your 2 story starter pages, click the 'create 12-page project' and your story starter pages will already be at the start of your book. From here just follow the same steps as above to make your book!